Old Town Newhall Specific Plan Update
Welcome to the online portal for the 2021 Old Town Newhall Specific Plan Update. Here you will find the latest project updates, information on upcoming public events and resources to track the progress of the planning effort.
What is the Old Town Newhall Specific Plan?
The current Old Town Newhall Specific Plan was adopted in 2005. The Plan establishes the overall vision for Old Town Newhall and has successfully guided its growth, development and revitalization over the last 15 years. The Plan is a regulatory document that codifies development standards, design guidelines and implementation measures for the development of buildings, places, streets and infrastructure. These regulations are ultimately intended to implement the goals and policies of the City's General Plan, as they apply to the 20-block area of Old Town Newhall.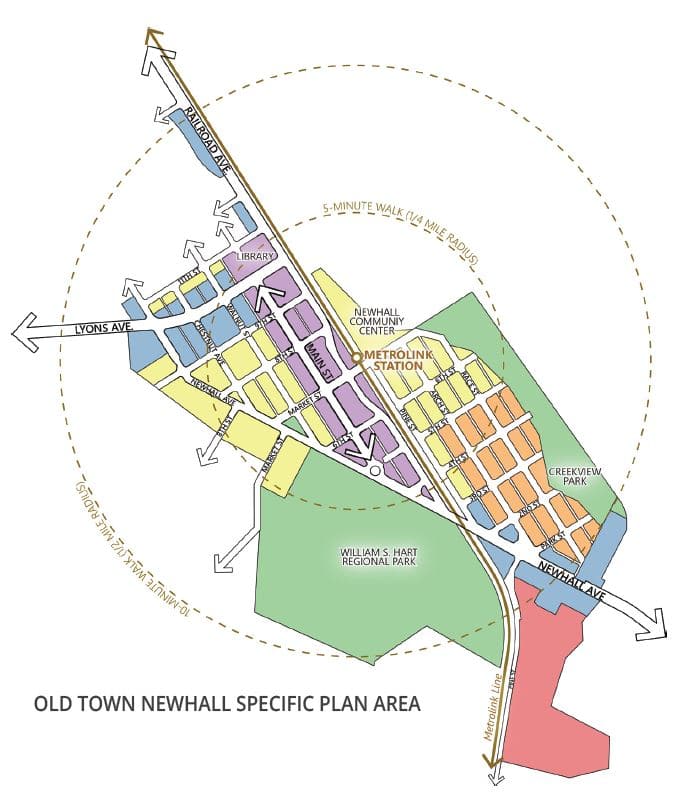 Why is the Plan being updated?
The Old Town Newhall Specific Plan was adopted by City Council in December 2005. Over the past 15 years, the Plan has succeeded in revitalizing Old Town Newhall, encouraging new development and transforming a state highway into the City's Arts & Entertainment District.
Successes include: The Newhall Crossings mixed use project, the Laemmle movie theatre, restaurants such as Newhall Refinery and wine and beer tasting rooms such as Brewery Draconum.
Continuing to build on this success, the City has hired a consultant to update the Plan to recognize the accomplishments of the past 15 years and fine tune the plan for the next 15 to 20 years. Updated development standards – informed by community input – would help property owners, small businesses, designers and developers better understand the development objectives for Old Town Newhall, refocus on the Arts and Entertainment theme and clarify the type of development properties that Old Town Newhall can support.
This planning effort is being conducted by the City of Santa Clarita and is supported by grant funding from the California Department of Housing and Community Development.